Can a Chiropractor Help After a Sports Injury?
Can a Chiropractor Help After a Sports Injury?
Written By O'Keefe Chiropractic Center on July 13, 2020
---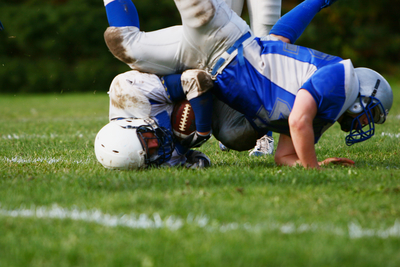 As an athlete, you know how demanding participation in sports can be, especially ones that involve tackling, running, and jumping. Sports injuries happen when exercising and playing sports. These injuries can range from broken bones to painful strains, sprains, and tears. Getting the right sports injury treatment right away can reduce painful symptoms, help you recover, and help prevent chronic injuries.
Chiropractic for sports injuries may involve rehabilitation exercises or stretches, diet or lifestyle changes, spinal mobilization, and spinal manipulation. During spinal manipulation, your doctor will apply controlled thrusts to joints of your spine. These thrusts help release pressure and tension within your joints and surrounding tissues. Spinal mobilization, a gentler approach, does not rely on these thrusting motions. Instead, your doctor will use stretching techniques to release the pressure within your joints.
The Most Common Causes of Sports Injuries
The most common causes of sports injuries include:
Not having the proper gear
Failing to warm or stretch enough before you play
Accidents
Poor training habits
Being out of condition
The Benefits of Chiropractic for Sports Injuries and Injury Prevention
Chiropractic care is commonly used as a sports injury treatment and for injury prevention. For sports injuries, chiropractic care provides benefits such as:
Reduced tension, swelling, and inflammation
Decreased recovery time
Prevention of further damage caused by chronic injuries
Reducing or preventing scar tissue
Relieving pain
Chiropractic care can prevent sports injuries by:
Improving circulation
Improving posture
Correcting pinched or irritated nerves
Improving range of motion
Finding the Best Sports Injury Treatment Options Near You
Dr. O'Keefe and Dr. Osenenko have become a cornerstone of the Medford and Marlton communities for their patient-centered approach towards treatment options. With years of experience with sports injury treatments, Dr. O'Keefe is a member of the American Chiropractic Association Council on Sports Injuries and Physical Fitness, and Dr. Osenenko began his career as a strength and conditioning coach for athletes. Your first visit will include a physical exam and a medical history assessment to create a personalized treatment plan for you.
Sports injury treatment is essential in preventing chronic sports injuries. If you have sustained a sports injury, don't wait. Contact our office today at (609) 654-4299 to schedule an appointment.

Posted In: Chiropractic Shoulder Pain Treatment Sports Injury Chronic Pain Prevention