Learn the Signs & Symptoms of a Herniated Disc
Learn the Signs & Symptoms of a Herniated Disc
Written By O'Keefe Chiropractic Center on March 11, 2021
---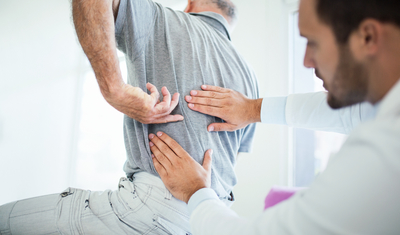 Getting older is the leading cause of developing a herniated disc. Youthful discs are well hydrated, flexible, thick and robust. of As you age, you naturally lose all of that, making it easy to tear and rupture them. Herniated discs occur most often in people ages 35-55, and are more common in men.
The good news is you can significantly slow the progression and often reverse it and get pain relief through chiropractic methods. Our doctors at O'Keefe Chiropractic Center in Medford offer professional medical care for herniated discs.
Caring for a Herniated Disc
Most cases of disc herniation are treatable by conservative means. Surgery should be a last resort. It takes six to eight weeks on average for most disc herniations to heal--the key words here being "proper care." You've got to get the right diagnosis first.
It's common for a herniated disc to to get misdiagnosed or go undiagnosed when the primary complaint is chronic back or pain. It's often misdiagnosed as sciatica, piriformis syndrome, disc degeneration, or even osteoarthritis, all of which can make logical sense. The problem is you won't find quality pain relief or better health by addressing a misdiagnosis.
Disc herniations don't always cause pain. However, painful ones cause pain radiating from the site, tingling, numbness, muscle weakness, and sometimes numbness in the hands. When experiencing any of these symptoms, the best and safest thing you can do is seek proper chiropractic evaluation and care as soon as possible.
Specialized Herniated Disc Care at O'Keefe Chiropractic Center
The doctors at O'Keefe Chiropractic have been specializing in helping with disc and sciatica problems for many years. The Doctors do a thorough examination and in most cases x-rays would be ordered and when indicated an MRI would be ordered for further evaluation.
O'Keefe Chiropractic can treat disc herniations and sciatic pain with spinal decompression and flexion distraction therapy.
Hear It from A Satisfied Patient
"The doctor suggested I get a cortisone shot, and I know that usually leads to surgery, so I wanted to try something else. My father-in-law recommended Dr. O'Keefe and he suggested DTS therapy to help realign my vertebrae. I decided to take a shot at it and in two weeks I was pain free. I saw him three days a week for 12 weeks and my MRI results came back showing improvement. The overall process was amazing how it made me feel better in so many different ways, including my neck, arms and circulation. He got me ironed out quickly. He's a miracle worker."
-Bob B.

Have questions or ready to schedule an appointment? Call O'Keefe Chiropractic Center in Medford at (609) 654-4299 or go online and fill out a contact form.

Posted In: Chiropractic Low Back Pain Treatment Spinal Decompression Herniated Disc Treatment