Natural Disc Pain Therapeutics in Medford
Natural Disc Pain Therapeutics in Medford
Written By O'Keefe Chiropractic Center on May 7, 2022
---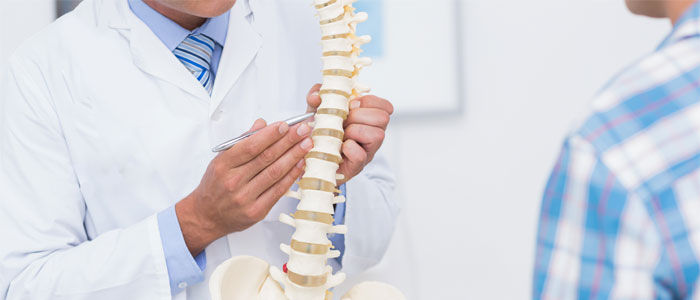 Disc pain can be a serious and debilitating condition if not addressed by an expert chiropractor. Millions of Americans suffer from herniated or bulging discs, and the truth is that our lifestyles are often to blame. Frequent slouching, sitting and poor posture has forced our backs into unnatural positions. Those who work physically demanding jobs often find themselves with disc pain.
Chiropractors such as those at O'Keefe Chiropractic Center in Medford, NJ, are experts in diagnosing and addressing disc issues. We are dedicated to treating your pain for the long-term and getting you back to the things you love.
What Is Disc Pain?
Disc pain is skeletal in nature, meaning that it deals with your spine. It can originate anywhere along the spine, but is more common in the neck and low back. Depending on the severity of your condition, you may experience numbness, tingling, or even sharp pain in the back or neck.
A herniated disc is the result of tearing of the fibrous mesh that encases your disc, thus allowing the gel-like center of the disc to move into the spinal cord or the spinal nerve roots. Herniated discs can put pressure on nerves and cause numbness and tingling.
While disc pain can be the result of aging or disc degeneration, often it can be traced to a specific activity or moment. Those who use their back during their work are particularly prone to developing disc issues, as well as others who work manual labor jobs.
Can Chiropractors Treat Disc Pain?
If you have disc issues, the good news is that you don't have to suffer with it. Chiropractors are experts in the spine and disc pain therapeutics. O'Keefe Chiropractic Center has decades of experience helping thousands of patients improve their range of motion.
The chiropractors at O'Keefe Chiropractic Center address disc pain by using state-of-the-art spinal decompression and spinal therapeutics to move your discs back into the proper position. Chiropractic care is often recommended as the first step to addressing disc pain because it can remedy issues before there is a need for surgery or medication. Many patients report that their condition improves after just a few sessions.
O'Keefe Chiropractic Center in Medford
If you suffer from disc pain, you aren't alone. Seeking an expert chiropractor can keep your pain at bay and prevent it from returning in the long-term. We evaluate your lifestyle and develop a therapeutic plan that works best for you.
Schedule an appointment at our chiropractic office in Medford at (609) 654-4299 or contact us online.

Posted In: Chiropractic Low Back Pain Treatment Spinal Decompression Neck Pain Treatment Disc Pain Treatment