Workplace Ergonomics - How to Maintain Optimal Health and Energy
Workplace Ergonomics - How to Maintain Optimal Health and Energy
Written By O'Keefe Chiropractic Center on June 11, 2020
---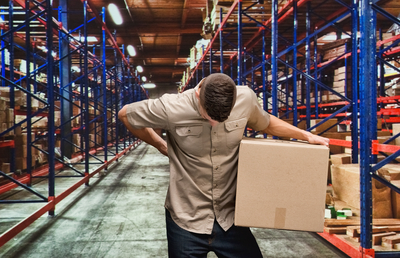 Lower back pain is the leading cause of disability in the world for numerous reasons, including poor work posture, an inactive lifestyle, illness, and injury. More and more workers are working from home, some of which had not had a home office before. With more desk jobs, workplace ergonomics principles are essential to avoiding injury.
Common Causes of Back Pain Related to Workplace Ergonomics
While there are several causes of back pain, injuries in the workplace can be attributed to conditions such as:
Poor work posture
Repetitive motions, especially those involving the rotation or twisting of your spine
Improperly lifting or moving heavy objects
Long periods of inactivity
3 Essential Workplace Ergonomic Principles
By keeping fundamental workplace ergonomic principles in mind, you can take steps to prevent injury. Here are three essential workplace ergonomics principles to keep in mind while working from home or at a desk job.
1. Maintain a Neutral Work Posture
Maintaining a neutral work posture will help you avoid strains, sprains, and other injuries. Strive to keep your spine completely straight while sitting and keep your:
Feet flat on the floor
Shoulders relaxed
Elbows bent at 100 degrees or more
Wrists straight
2. Avoid Inactivity
The musculoskeletal system is designed to move, and long periods of inactivity can cause harm to your body. Break up your day by stretching and getting up to move around at least once every 30 minutes. Doing so reduces fatigue, improves your balance, improves posture, and lowers your risk of injury.
3. Minimize Repetition
It's important to avoid repetitive motions, particularly ones that require high force or awkward positions. Creating the right environment for your home office can go a long way to helping you avoid awkward, repetitive movements. Follow workstation guidelines set forth by the CDC to ensure that your workstation provides proper postures and allows you to avoid awkward positioning.
Finding Chiropractic Care While Improving Posture
Dr. O'Keefe and Dr. Osenenko have become cornerstones of the Medford and Marlton community. They work together with their patients to create treatment plans tailored to each patient's needs. A poor work posture can cause back pain, headaches, and other symptoms. While improving posture is a significant first step, chiropractic care will help relieve any back pain you are already experiencing and reset your spine back to its natural alignment.
Improving posture is an essential step to preventing injury and reducing back pain. If you're experiencing back pain, contact our office today at (609) 654-4299 to get started.

Posted In: Chiropractic Low Back Pain Treatment Neck Pain Treatment Workplace Ergonomics