Auto Accident Victims Need to See a Chiropractor ASAP
Auto Accident Victims Need to See a Chiropractor ASAP
Written By O'Keefe Chiropractic Center on July 14, 2021
---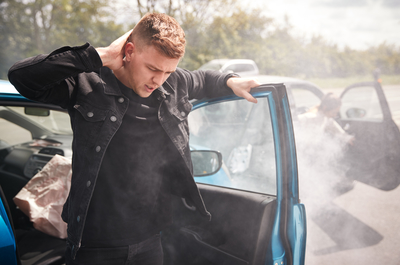 Yes, we mean the small ones, too. Pain or no pain, resist the urge to grow complacent. Get yourself checked out. It can take months for injuries to manifest, so get seen at O'Keefe Chiropractic Center in Medford as soon as possible.
Car Accident Injuries Can Start off Invisible
Car accidents are a stressful adrenaline rush that triggers fight-or-flight mode. Feeling pain is secondary to survival. This survival reaction delays the onset of pain. Through our extensive experience with auto injuries, we'll give you a list of red flags to keep an eye out for and document everything in case you need to take legal action.
We want you to be on the lookout or be proactive in the face of whiplash and concussion in particular. They're two of the most common auto accident injuries and they can lead to long term health issues. The best way to protect yourself is to seek immediate treatment. Fast action gives you a much better chance of a full recovery.
The doctors at O'Keefe Chiropractic Center will care for you by conservative means. Instead of masking the symptoms, we get to the cause. A car accident throws your body out of balance; you most likely need treatment to restore physiological balance so that a minor problem does not turn into a more serious problem.
Hear It from a Satisfied Patient
"Dr. O'Keefe and all of his staff are the best. The office is very clean, super friendly, and extremely flexible with appointment availability. The appointments are always thorough, yet fast and always on time. Dr. O'Keefe got me 100% back to an active lifestyle after a back injury about 5 years ago and he is currently helping me through the effects of a car accident. I have never trusted a doctor more, and his team makes me feel welcome every time I walk in the door."
Michael Kuzniar, Google reviewer
Get Complete Auto Accident Care in Medford
At O'Keefe Chiropractic Center, we take a unique approach to healthcare. We'll thoroughly delve into your health history and perform a physical exam. We'll also order the proper diagnostic studies as needed to identify the cause of your injury (or injuries) and act on the proper chiropractic treatment for you.
We utilize multiple approaches, such as DTS compression, activator and manual adjustments, and therapeutics such as laser muscle stimulation.
Have questions or ready to schedule an appointment? Call O'Keefe Chiropractic Center in Medford at (609) 654-4299 or go online and fill out a contact form.

Posted In: Chiropractic Auto Injury